May GOD bless their marriage and I wish them a life-long love. The best weddings are those from the heart. ~ Becker
I've seen quite a number of weddings over the last almost 50 years. Some take and some don't. A big fancy expensive wedding is no assurance of life-long love and commitment with your chosen mate. Of the weddings I've witnessed where I have known the people for a long time the simple weddings have produced the strongest lasting vows.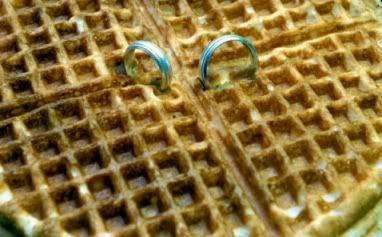 A
s
the famous twang
of Hank Williams Jr. blasted from an SUV stereo Friday afternoon, about 30 folks socialized, sipped soda and puffed on cigarettes.
No, this wasn't a Fourth of July backyard barbecue. It was the run-up to a wedding.
In a Waffle House parking lot.
The lucky couple, George "Bubba" Mathis and Pamela Christian - both 23 and employees at the Dacula diner located at the Ga. Highway 316/U.S. Highway 29 interchange - wouldn't have it any other way.
"I don't know, it's something different," Mathis said while fixing his tie prior to the ceremony.
For years, the couple tried to marry on their Independence Day anniversary. But the bride was always scheduled to work. Instead of waiting any longer - she got the day off at the last minute; Mathis had to report for the morning shift - the couple of nine years decided to seal the deal at work.
The result was what a NASCAR tailgate might be like if Hank Jr. himself stopped by with all his rowdy friends: Loud and proud - country music, storytelling and plenty of Dale Earnhardt paraphernalia - and not an iota of pretentiousness.
Shortly after exchanging vows under the shade of a tree next to the parking lot, both man and wife let out sighs of relief as they picked up their two little blonde girls and chatted with family and friends. But there was no time to relax - the wedding cake had to be cut inside.
Goggle map and links below the video
The Waffle House is located at 725 Harbins Rd., Dacula, GA, 30019
In this map it is exactly where the big red A points to on the north side of the Highway.
LINK to the map
View Larger Map