The only sign for the Guidestones
The monument, known as the Georgia
Guidestones
, was built under a cloud of mystery in 1980. It has a list of 10 items in eight different languages, including:
Establish a new world language,
Limit human population to 500 million and
Avoid being "a cancer on the Earth."
Mark Dice has a group called The Resistance contacted officials of the nearby small town of
Elberton
to try to rally citizens of the town to pressure their leaders and hoping to generate grassroots opposition from around the country.
Since the land the monument sits upon is owned by a private trust and is not public property
, Dice said, the battle against the monument will have to take place in the court of public opinion, rather than a court of law.
Edit to add: Sept. 9, 2009 I came across an item about a person who sent DVDs and literature to our troops in Iraq suggesting the mind bent people known as 9/11 conspirators (who believe our govenment was behind the twin towers attack) should be killed. This person was Mark Dice. That is as bad as the conspiracy people to suggest murdering anyone. I do not go along with Mark Dice but to suggest those people be murdered...sick.
*NOTE to add I have further seen where Mark Dice is one of the primary people pushing the idea that there has been an organization (referred to as The New World Order) trying to take over the world since way back in recorded history.
With all that Mark Dice is doing it creates more general interest in the Georgia
Guidestones
than if he did nothing at all about them. The person who had the stones set up never advertised them nor had anyone go on TV to promote them or anything whatsoever other than to have them built and set up out in a field seven miles out in the boonies outside from a small
semirural
town that no one knows about in an out of the way corner of the state. If not for Dice the Georgia
Guidestones
would not be known to any but those living in the area and a few curiosity seekers.
What we have is one strange person, or group directed by him, seeing a world wide conspiracy in a set of guidelines an unknown person had erected back in 1980 on private property some seven miles out in the countryside from a remote small town. Some even believe it is part of the

boogey

man conspiracy of The New World Order. Could it be that Dice himself is the unknown person that had the stones put there just to provide a basis for what he wants to do. After all one has to have a foundation to build an empire.
The guidelines make a lot of sense to me. Take a look at them: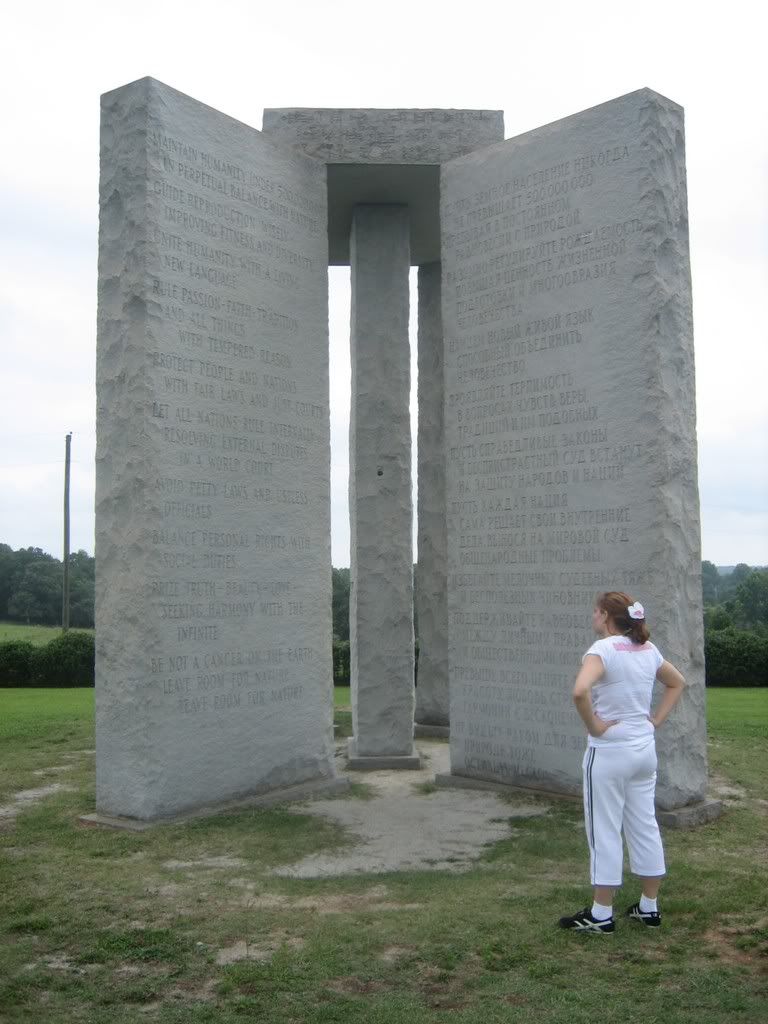 1. Maintain humanity under 500,000,000 in perpetual balance with nature.

2. Guide reproduction wisely - improving fitness and diversity.

3. Unite humanity with a living new language.

4. Rule passion - faith - tradition - and all things with tempered reason.

5. Protect people and nations with fair laws and just courts.

6. Let all nations rule internally resolving external disputes in a world court.

7. Avoid petty laws and useless officials.

8. Balance personal rights with social duties.

9. Prize truth - beauty - love - seeking harmony with the infinite.

10. Be not a cancer on the earth - Leave room for nature - Leave room for nature.
There is a Goggle map link and picture after the next paragraph or note
NOTE to those who agree with the character who wants to silence

another's

opinion:
The stones were paid for by a private individual and erected on private property. There is no promoting the stones, they are not at the edge of a main/major heavily traveled highway where they could gather attention nor is there a huge billboard promoting the

Guidestones

and definitely no TV program or movie about them either. The

Guidestones

are off on a

side road

in a field, not sitting up

prominently

atop a hill and the person is not creating a religion to evangelize his ideals. He is entitled to his opinion and to do with his property as he wishes.
"Be not a cancer on the earth - Leave room for nature - Leave room for nature."
Property ownership records information links listed at the very bottom of this post
Google Earth coordinates: 34°13'55.42"N 82°53'40.00"W
Google map link:
http://maps.google.com/maps?hl=en&q=34%C2%B013'55.42%22N+82%C2%B053'40.00%22W+&ie=UTF8&ll=34.232384,-82.894442&spn=0.008462,0.013561&t=h&z=16
If you go to the map site and change it to MAP then take the little man icon and put him at the intersection where you turn to go to the Guidestones you can easily see that the site is not that visible unless you know where you are and what you are looking for.
View Larger Map
A ton of information including details on its construction and theories about the what and why that it was built at http://www.wired.com/science/discoveries/magazine/17-05/ff_guidestones?currentPage=all
Property records search shows that Elbert County Board of Commisioners purchased the 4.93 acres the Guidestones sits on for $5,000 on October 1, 1971 and as of this writing is still shown as the owner of the property where the Guidestones are located.
Property info Link:
http://64.234.218.46/ga_elbert.html?parcel=027%20%20%20%20018&extent=435156+1539017+437200+1541261&layers=roads+parcel_sales#8